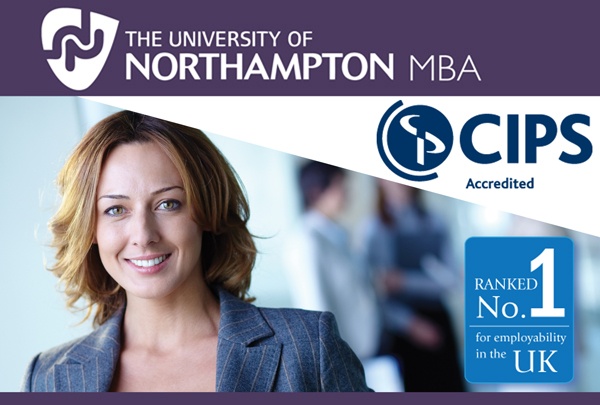 The MBA programmes at Northampton Business School are carefully designed to offer in depth knowledge of all critical business areas and functions. To succeed in business, you require more than just business skills. The Master of Business Administration is a globally recognised postgraduate qualification for ambitious, motivated graduates.
This unique MBA will suit those that are aspiring business professionals without previous business or management experience but have a clear interest in and passion for Business, Enterprise and Entrepreneurship. This MBA is available to study full time or by distance learning.
Obtaining an MBA at the University of Northampton will support your career progression by developing your critical thinking and research skills which will enhance your business knowledge and understanding. The MBA will teach you the theory of effective management practice and equip you with essential skills, confidence and competence to assist you when you venture into your chosen industry. You will learn to think laterally, challenge convention and offer knowledge based solutions to business issues. You will be able to think and operate differently to your colleagues which is essential in today's global business arena.
The MBA is great for creating and building your networks.  You will study alongside ambitious graduates and have the opportunity to engage with business professionals from a range of organisations, industries and countries exchanging their experiences, insights and best practice. You will join a community of influential tutors, business professionals and MBA alumni. Current staff and past MBA students from this university span the globe and offer extensive, diverse, cross cultural business experiences.
Course modules (16/17)
Critical Issues in Business

Module code: STRM042
Core module Y

What are the critical themes and pervasive issues in business today?

Management and Organisational Behaviour

Module code: HRMM055
Core module Y

What are the organisational and management processes that I need to understand to be an effective leader?

Strategic Marketing

Module code: MKTM028
Core module Y

How can businesses gain competitive advantage in a dynamic and complex marketplace?

Managing Operations and the Supply Chain

Module code: STRM046
Core module Y

What are the critical factors in operations, supply chain and project management?

Competitive Strategy and Innovation

Module code: STRM043
Core module Y

What do I need to know to be able to develop and interpret strategy?

Financial Decision Making

Module code: FINM036
Core module Y

What strategic knowledge do I need of accounting, quantitative methods and management information?

Business Research Project

Module code: STRM059
Core module Y

How can I gain skills in business planning, project and consultancy work?

International Business Negotiation

Module code: STRM060
Core module Y

Acquire a skill set that facilitates the articulation, advocation and negotiation of business transactions and decisions.

The Entrepreneurship Project

Module code: MKTM033
Core module Y

How do businesses identify new opportunities before their competitors and develop new products?

Organisational Culture and Work Environments

Module code: STRM066
Core module N

If you are a Full Time on campus student this is the optional work placement module
Park Campus
Park Campus, the larger of the two campuses, is set in 80 acres of open green parkland, occupying an impressive and spacious site.
Facilities available on-site include a sports hall, restaurant, Students' Union, Student Centre, shop, bar and nightclub. Safe and secure accommodation for more than 1,300 students is spread throughout Park Campus, with the majority placed within our student village combining stunning green spaces with welcoming Halls of Residence.
A Multi-Faith Chaplaincy and Medical Centre (providing a full GP service and free counselling) are also available at Park Campus.
Park Campus is within easy walking distance of a busy, local shopping area, complete with banks, supermarkets, shops and pubs.
The University of Northampton
Park Campus
Boughton Green Road
Northampton
NN2 7AL
Contact Tamian Services for Course Application! It's always free of charge!